Wild Earth Retreats
Wild Earth 5 Elements Retreat allows us to create a deeper connection with nature and her natural rhythms and ultimately deepening the connection with
ourselves. Through yoga and mindfulness practices we open pathways to align with a more natural way of being. Our inspiration is the undisturbed coastal bushland of the surrounding Yuragir National park and the pristine beaches and river systems of the Clarence Valley
We invite you to experience Higher Ground Retreat, an off-grid sustainable living project set amongst 146 acres of protected coastal wetland. A newly evolving permaculture property, Higher Ground welcomes guests, friends and willing workers into a unique and authentic nature based yoga experience. During your stay you will cultivate a deeper connection with the earth, the cycles of nature and a sense of community living in harmony with the elements.
Connect with Natuure
We invite you to experience the benefits of an off-grid lifestyle and 
the healing power of nature in a coastal bush setting.
This is your opportunity to truly get away from it all, staying off-grid in our 'glamping tents' while learning new ways of sustainable gardening and living.  We incorporate nature connection practices, permaculture gardening workshops and a transformative 'vision quest' into the experience. We create a safe space to truly drop in and experience the healing power and the magic of the Australian Bush.
Start your day with sunrise meditation and yoga practice supported by the sounds of nature. Learn about life in harmony with the elements and immerse yourself in this unique meld of wilderness and mindfulness for 5 days and nights.
Yoga
Moving between gentle sunrise flow sessions and the deep release of sunset Yin Yoga, classes will focus on the qualities of a different element each day.
Activating the meridian lines and the specific organs corresponding to each element. Tailored to work with the conditions, your individual needs and the groups flow.
Surf
Wild Earth Retreats includes two epic days of surfing for the more adventurous. Taking the 'dawn patrol' the surf sessions will be tailored to your ability and personal needs.
Surfing is optional in case you prefer to SUP on the ocean lagoon or just soak up the beach vibes these two mornings.
We also have one morning free time for anyone wanting to practice their surf skills in between lessons.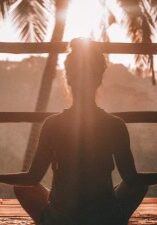 The Farm
Higher Ground retreat is an off-grid, sustainable living permaculture project, around 30 mins drive from both Yamba and Brooms head. 
We have a food forest systems, a tea tree waterhole for swimming and a
native American Tipi to gather around the fire and meditate in the elements. 
Accomodation
Get ready to soak up the energy and healing sounds of nature.
Experience camping in style with our 'Eco-Chic' tents at Higher Ground Eco Retreat.
Access is nearby to the outdoor hot showers, garden yoga studio and rustic camp kitchen. We have three 2-3 bed beautifully styled Belle tents available, in their own private corner of this gorgeous property, that is 'glamping' at its best.
This is your opportunity to experience the Australian bush and 
really get away from it all
. We invite you to experience the benefits of an off-grid lifestyle and
the healing power of nature.